Banner image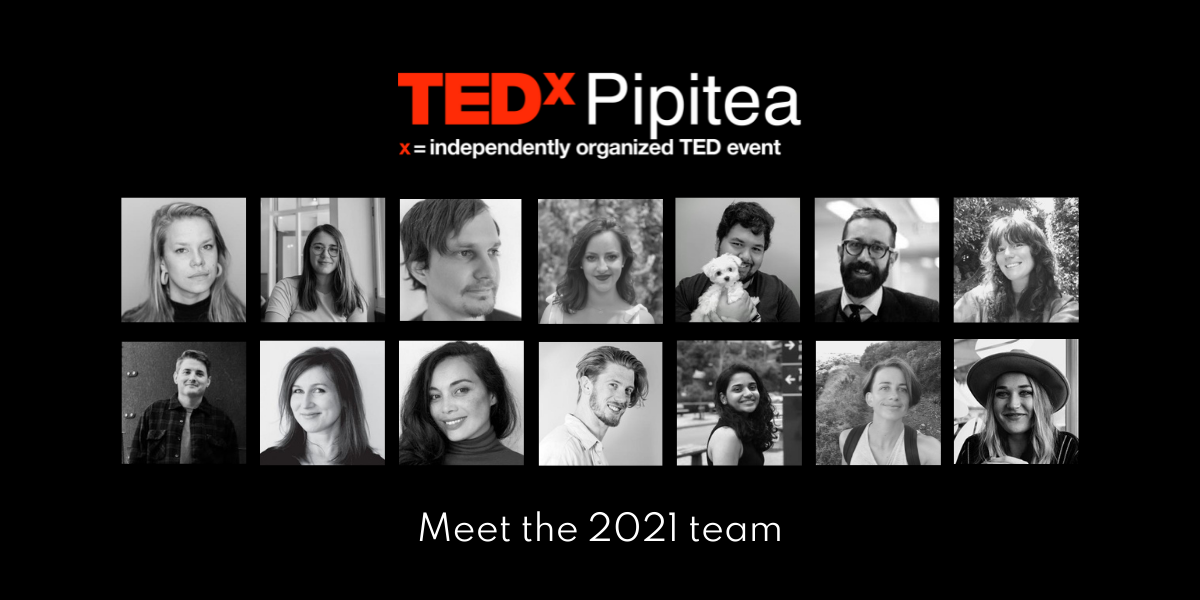 Container
Paragraphs
Text
It has been a while since we updated you with what's happening at TEDxPipitea. We have been up to a lot of planning, reaching out, conversations, making new friends, brainstorming and making all the stops to put up an epic TEDx event, right here in Central Wellington.
But before we get on to what's lined up for this year, we would be failing in our duties if we don't give a MASSIVE shout-out to our amazing team of volunteers, who are working harder each passing day to make our debut event one of the best.
We are led by our TEDxPipitea licensee, Alex Matthews, who has played crucial roles in putting together many TEDx community events in the past decade. A serial entrepreneur with an undying passion for all things tech, and a career spanning in hospitality, game design and event management – Alex is a master of many.
Our Speaker/ Performer curation team is headed by the wonderful Erica Brooks. With a background in the creatives, event production, media production and even krav maga instructing – Erica brings world-class coaching experience to help our speakers & performers succeed on stage. She is supported by Dylan Sofa, who is championing diversity & inclusion in our community, and by Gareth Parry, a partner at PwC's Experience Consulting practice and who is also an avid cricket fan!
The fantastic Tania Marie Smith leads our Event logistics & Partnerships agenda. She is a researcher, a strategic consultant, and a proud mama of two beautiful daughters. She brings rich experience in event management, having worked many years alongside many industry greats.
Working closely with Tania is Hannah Wignall who has been involved with TEDx in Wellington since 2014. She has had held many roles from Front of House, to Head of Experience to Co-Organiser and she is currently Chair of the xWellington Charitable Trust that has been set up to support TEDx events in Wellington.
Our MarComms team is headed by the uber-cool Ciaran Jack, who is the founder + Director of Obvious Brand Partners, an agency driving design innovation and best-for-business solutions for amazing organisations across Aotearoa. He is supported by Essi, who is madly creative and excellent at project management; by Elley, who is the design genius behind all things and everything you see in our comms; by Bryan, who is a recent VUW Executive MBA grad, having a decade of experience in global marketing and business development; and by Shamanthi, who is passionate about building brands that are purposeful.
Working closely with Alex on day-to-day logistical support is Rosalind, who is a team member at Xequals. Her work focuses on website development and helping interpret TEDxPipitea's visual identity.
Our community outreach efforts are made by Lucy Shand and Jessica Newton. Lucy's Wellington career is quite extraordinary – with roles in supporting entrepreneurs at Te Papa's innovation hub, advisory role at NZ Parliament and sponsorship & livestream direction at TEDxWellington. Jessica is a brand identity designer and strategist and she's all about creating memorable experiences over good food and conversation. She admires the people who craft the creative culture and hospitality of Wellington, the awesome music and performance, food and tipples, craft products, art and design.
To know more about our amazing 2021 volunteer team, head on over to https://tedxpipitea.com/about